OnePlus One visits the FCC, microSD card support revealed in User Manual
36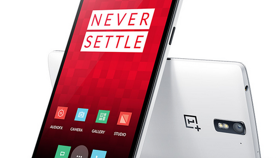 Last month, when OnePlus
announced its CyanogenMod-based One smartphone
, it didn't say anything about the presence of a microSD card slot. However, it appears that the handset will support microSD cards after all.
A few days ago, the
OnePlus One
was approved by the FCC, which revealed the smartphone's User Manual - and this mentions that the handset supports microSD cards up to 32GB. That's great news for customers who are looking to buy the 16GB version of the device.
The OnePlus One that passed the FCC tests comes with LTE bands 4 and 17, thus it will be compatible with AT&T's and T-Mobile's 4G LTE networks. Of course, neither of the carriers will be selling the handset, because OnePlus wants to commercialize it directly, unlocked and without the involvement of carriers and retailers.
If you haven't heard yet,
the OnePlus One will be really cheap
, despite the fact that it packs lots of high-end features (including a 5.5-inch 1080p display, Snapdragon 801 processor, 3GB of RAM, and a 13MP rear camera). The 16GB model costs $299, while
the 64GB variant
is priced at $349. Both should be available starting late May - early June in lots of markets around the world, including the US.
Update
: It seems that all the OnePlus One handsets seen live until now (including a unit that
was disassembled
recently) come without microSD card slot. So it's strange that the User Manual seen at the FCC mentions microSD support. Could that be just a mistake? We'll keep an eye on this and report back when we know more.
Recommended Stories