OnePlus 7 Pro is here: revolutionary display, pop-up camera and no notch
51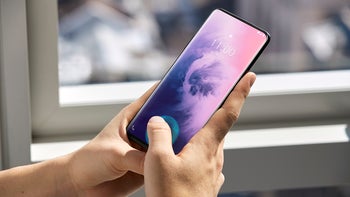 OnePlus, the company that promised to never settle, is back, and this time it has a phone that beats the rest not only in terms of price, but one that delivers a kind of revolutionary technology that no other mainstream flagship offers.
The name of the phone is the
OnePlus 7 Pro
and it's the first mainstream phone with a 90-hertz display, a feature that ensures a buttery-smooth visual experience that only specialized gaming phones have offered before. Also, it's one of the first phones with a true edge-to-edge screen, a dream design that the industry has been chasing for years. OnePlus made this possible thanks to a clever design for the selfie camera: it pops up for video calls and selfies, and retracts within the body of the phone when not in use. Add to that a relentless focus on getting rid of every millisecond of lag and stutter, and the OnePlus 7 Pro might just be the phone to beat in 2019.
OnePlus 7 Pro in a nutshell:
fluid AMOLED edge-to-edge screen, no notch, 90Hz refresh rate, Quad HD resolution
pop-up selfie camera
flagship Snapdragon 855 chip, up to 12GB RAM, liquid cooling
stereo speakers
new vibration motor
4,000mAh battery
5G option
higher price than any earlier OnePlus phone
The OnePlus 7 Pro, however, is not the only phone that OnePlus is announcing today: there is a second model, without the "Pro" moniker, simply the OnePlus 7. That model is more affordable, but it does have a notch and looks just like last year's OnePlus 6T, plus it lacks some features like the innovative 90-hertz display of the Pro. We will focus on the Pro model in this article, but you can
read more about the regular OnePlus 7 in a separate article here
.
Revolutionary Screen
No bezel, no notch, 90 hertz refresh rate, Quad HD resolution and HDR10+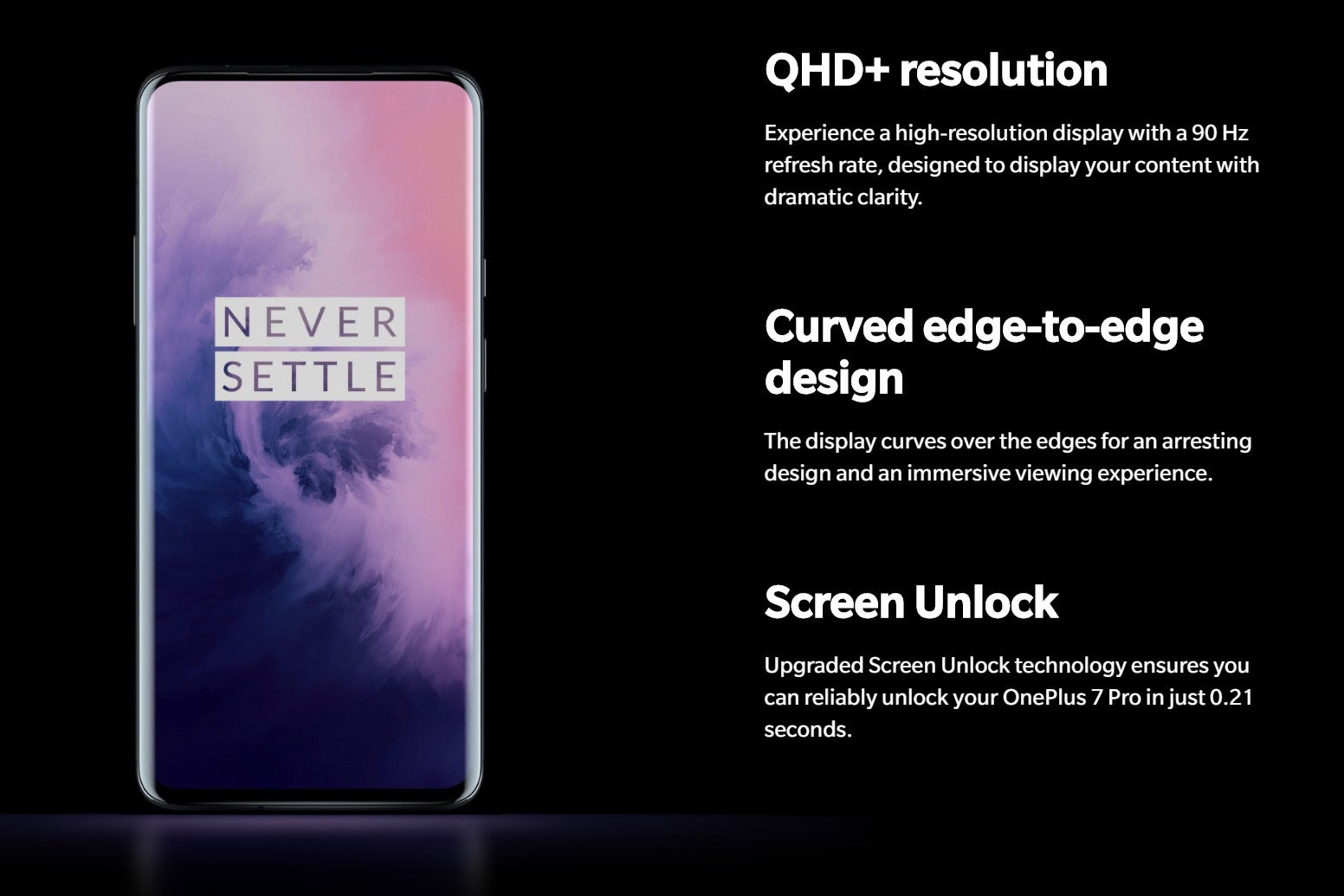 The leaks were true: the OnePlus 7 Pro indeed features a 90 hertz refresh rate, or simply put, this means that the screen refreshes 90 times per second compared to traditional screens that refresh 60 times per second. This results in a visually much smoother experience, something that you will notice all around the interface, but also something that makes a difference in gaming too. OnePlus calls it a Fluid AMOLED screen, and it now also has a higher resolution at Quad HD or 3120 x 1440 pixels, so everything looks extremely sharp.
The screen also supports HDR10+ for more vibrant colors, something that you will appreciate when you watch Netflix movies for example.
You also get Night Mode 2.0 that filters out blue light and automatically adjusts the screen temperature of the screen.
Cameras: Finally good?
Three cameras and a durable pop-up selfie shooter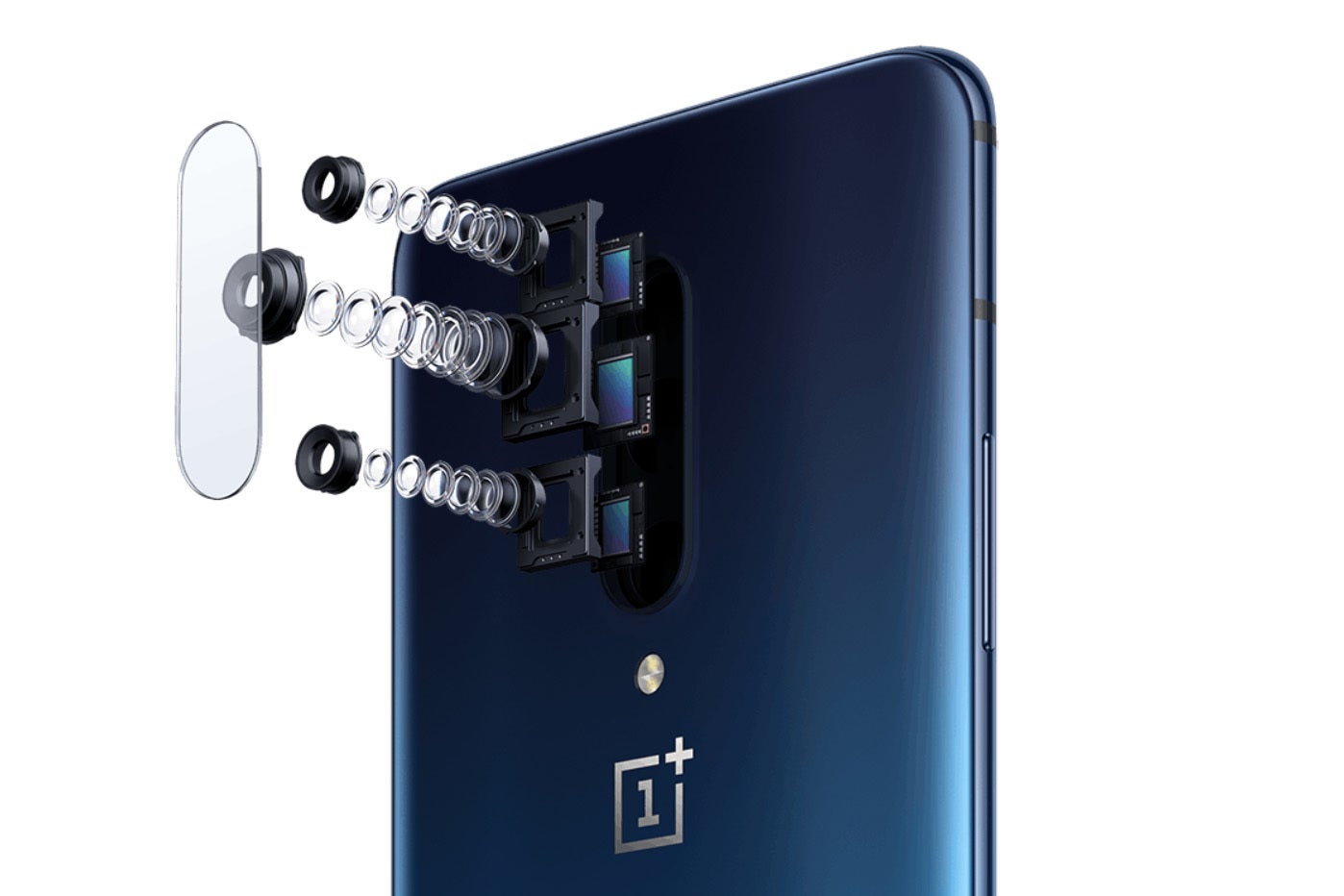 OnePlus phones have been fast and smooth for a while, but they have always lagged behind flagships when it comes to camera quality.
The OnePlus 7 Pro aims to fix that. It comes with three rear cameras and a pop-up front camera.
Here is a short breakdown of the camera specifications:
48-megapixel main camera
8MP, 3x telephoto camera, f/2.4, OIS
16MP ultra-wide angle camera
The biggest upgrade might just be the larger sensor size: the Pro now has a 1/2-inch sensor on the main camera. It uses pixel binning to combine four pixels into one and deliver better-looking photos, especially in low-light. You also get a new lens design with 7 elements, that is one extra lens for improved quality. The aperture is also f/1.6, wider than before, allowing more light to pass to the sensor, resulting in brighter, noise-free images at night.
Two key new camera features are UltraShot that uses smart HDR to control variance in lighting to produce a more balanced image. And then you have NightScape 2.0, the dedicated night mode that is now optimized for better low-light shots.
As to that front camera? Yes, it pops up and the first question to ask here is: will it break? OnePlus says it has tested the module 300,000 times, which amounts to years and years of use for even the worst case of selfie obsession. There is something else really cool here. When the front camera is open, the phone will track your phone continuously and if you drop your phone, it will quickly and automatically retract the camera, so it doesn't break when the phone falls. Clever!
Faster In-Screen Fingerprint Reader
Actually, the fastest in-screen fingerprint reader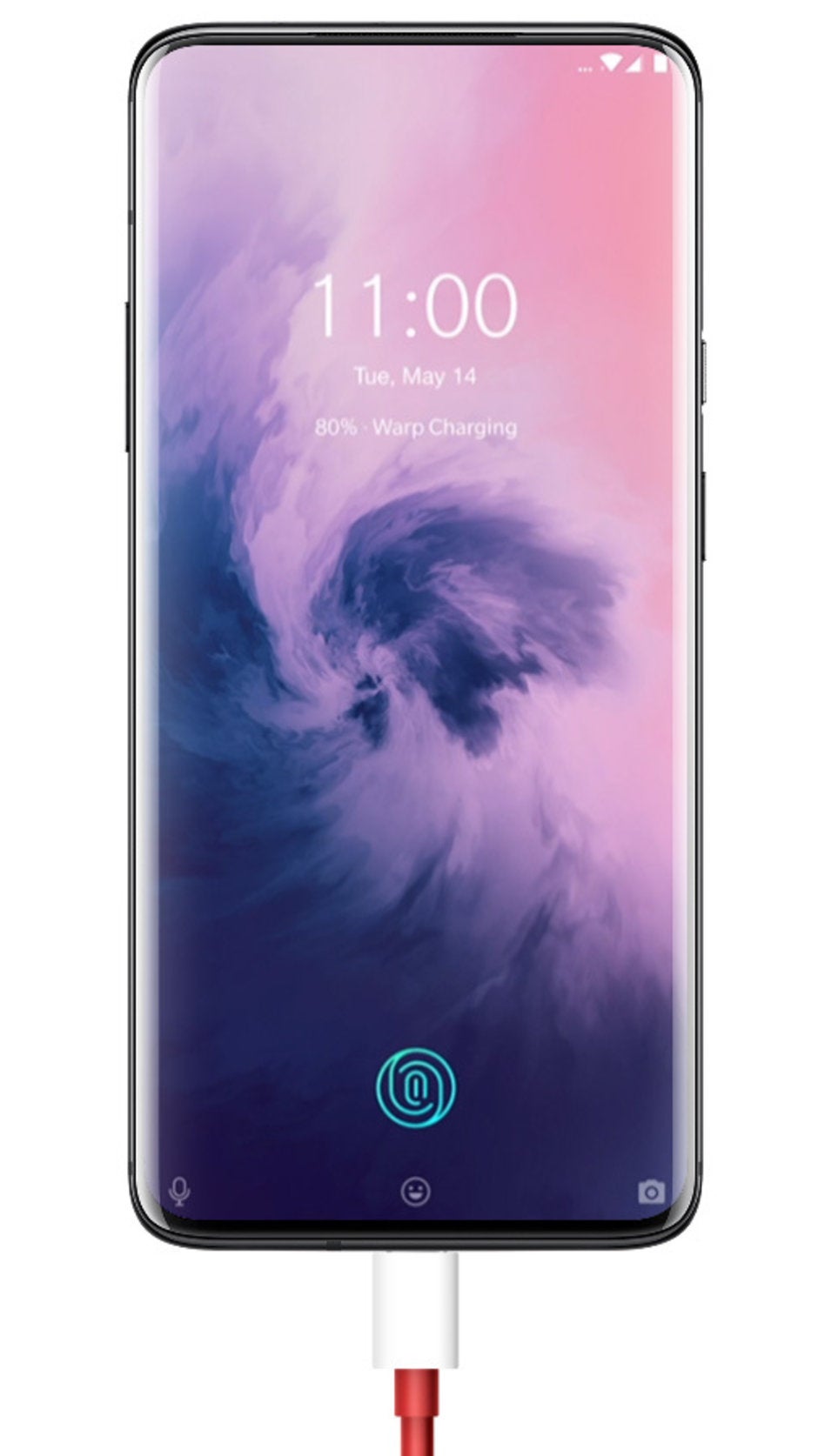 The OnePlus 7 Pro comes with an in-screen fingerprint scanner, but it's not the same one that was in the 6T: this is a new generation of an optical fingerprint scanner. It's 38% faster than the OnePlus 6T and unlock the phone in only 0.21 seconds.
This is the world's fastest in-screen fingerprint unlock system, which is an impressive achievement.
Battery Life
The largest ever on a OnePlus device
The OnePlus 7 Pro features the largest battery ever put on a OnePlus phone, a 4,000mAh battery that should last even the heaviest of users through those long days.
The Pro still does not support wireless charging, but it does come with even faster "fast charging". In fact, the phone will need just 20 minutes to go from 0 to 50% charge. This fast charger will be included in the box.
New Software Features
Something for the gamers and something for those who want to tune out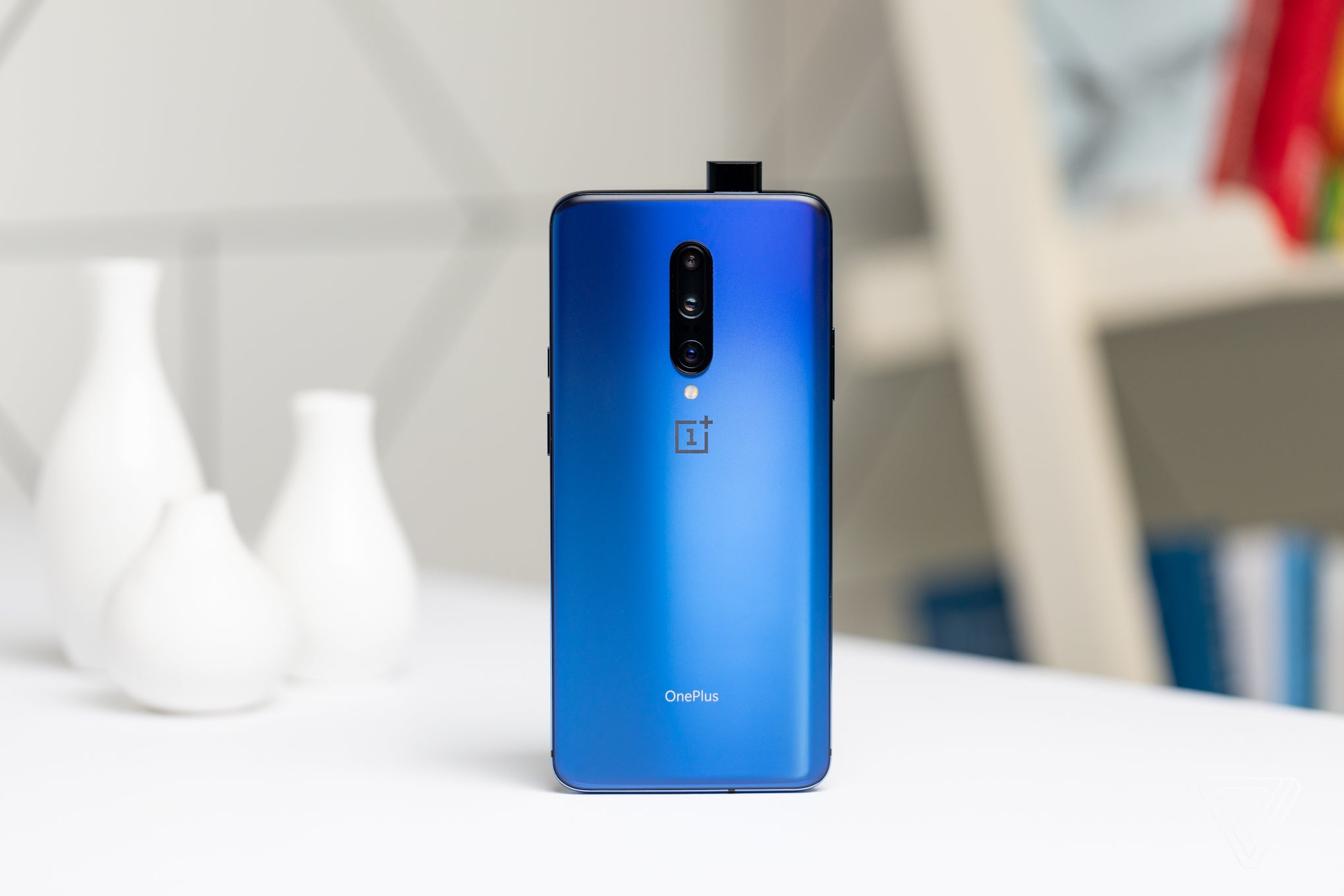 The new OnePlus 7 Pro ships with Android 9 Pie with the company's Oxygen OS 9.5 on top of it.
OnePlus also unveiled that it has reasons to take pride in when it comes to software updates. It was the second-fastest to deliver updates, only behind Google, according to AOS Mark, and the new 7 Pro will get a guaranteed 2 years of major updates (will be updated to Android 10 Q and Android 11 R), plus security updates will be delivered over the next 3 years.
In terms of specific features, OnePlus brings a brand new Fnatic game mode that brings extreme optimizations to the performance of the phone, makes sure your notifications don't disturb your gaming, as well as ensure the phone focuses on optimizing traffic flow to your gaming and not to something else in the background.
There is also a new Zen mode that helps users disengage from their smartphones. For a set period of time, your phone shuts off notifications and leaves you only capable of receiving urgent phone calls or use the camera, nothing more, no other distractions.
Price, Release Date and Carrier Availability
T-Mobile exclusive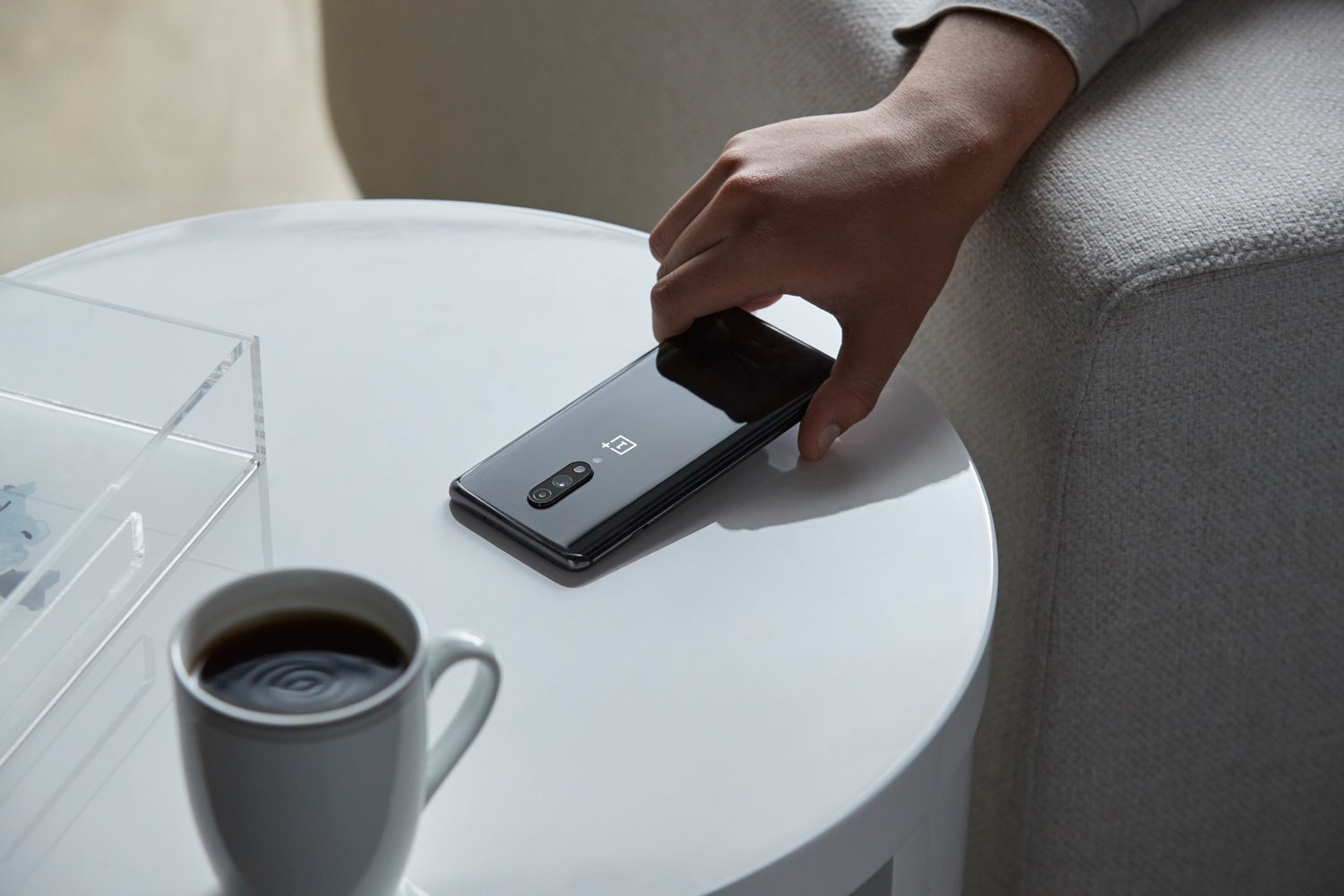 The OnePlus 7 Pro raises the bar with features, but all of that innovation comes at a cost. And you know what this means: the Pro is the most expensive OnePlus phone so far.
What does this mean?
Here is how prices of the OnePlus 7 Pro break down:
6GB RAM/128GB storage: $670 in US / £649 in the UK
8GB/256GB storage: $700 in US / £699 in the UK
12GB/256GB storage: $750 in US / £799 in the UK
The phone is available in a choice of three different colors: Mirror Gray and Nebula Blue are available right away, while a gold Almond shade will go on sale next month.
As always, you will be able to order the OnePlus 7 Pro unlocked via the OnePlus official website, and it will also launch on T-Mobile in the United States. Note that there will be a model with support for 5G connectivity as well.