You can now buy the OnePlus 6
4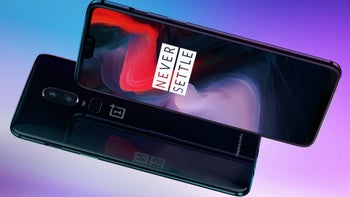 Starting at 10am eastern time today, on May 22nd, you can buy the new OnePlus 6 via the company's official webstore over at www.oneplus.com/6
And if you need a new phone and don't want to spend a fortune on it, the OnePlus 6 is an easy recommendation: it not only has a great price, but it also offers flagship grade performance with the powerful Qualcomm Snapdragon 845 chip on board, plentiful storage, a very capable camera and it even has a stylish look to it. We might sound a bit like a commercial for this phone, but there really is hardly anything to criticize about it. Of course, before you make the plunge, we recommend taking a look at our
in-depth OnePlus 6 review
where you can learn all the little details.
Meanwhile, the OnePlus 6 is now available in two colors and three different versions: you have the glossy "mirror black" edition that looks great, but is also an absolute fingerprint magnet, and you also have the "midnight black" matte model that has a very cool tactile feel and touching it reminds us of touching the smooth surface of a Macbook trackpad.
Here are the different storage versions that you can get:
6GB RAM / 64GB storage for $530
8GB RAM / 128GB storage for $580
8GB RAM / 256GB storage for $630
Additionally, you will have an elegant "silk white" model of the OnePlus 6 that will have gold sides and fancy, crushed pearls in one of its 5 glass layers, but that is a limited edition that will arrive in two weeks.
So... are you getting the new OnePlus 6? And what are your thoughts about the company's new phone and its "never settle" mentality?