Okay, yes you CAN opt-out of ads on the Kindle Fire tablets
8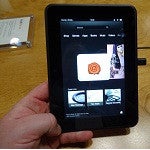 After what could be described as more than a minor voicing of concern, Amazon has switched gears and now it is being reported that yes, customers may opt-out of ads on the Kindle Fire tablets…for $15.
An Amazon spokesperson wrote,
"I wanted to let you know that with the Kindle Fire HD there will be a special offers opt-out option for $15. We know from our Kindle reader line that customers love our special offers and very few people choose to opt out. We're happy to offer customers the choice."
The $15 option is good for the life of the device. Users that elect that option will have a lock screen that is clear of any ads as well as along the bottom of the screen in some cases. The offer will be available whether you purchase an HD model or first generation Kindle Fire.
This was a very quick change in policy after the internet swelled with a bit of discontent over not being able to opt-out as had been originally reported, and indeed confirmed by Amazon just yesterday. They made a good call by reversing course on the matter, since that was potentially the only real black mark against the shiny new powerful tablets.
source:
CNET