Now you can get feedback from your brain on your smartphone with this app
7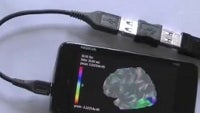 We sometimes think our brains are complemented, often replaced by the collective knowledge easily accessible by a smartphone. But now a smartphone can not only complement, but monitor and display your brain activity on the go via a new smartphone brain scanner which makes it possible to perform electroencephalography monitoring pretty much everywhere on your handset.
Strangely, the team behind the whole setup, Milab, has picked the Maemo 5-running Nokia N900 for its scanner, but while that might not be the best choice for the mass user, it could probably be easily ported to more popular operating systems like iOS and Android.
So how does it all work? First you place the 14-channel neuroheadset on your head, it then wirelessly connects to your smartphone and displays a 3D reconstruction of your brain showing which areas are active. Milab has tested it against some images bringing up memories, either positive or negative, and says it has performed well. We won't go into the fine details as the video below shows the whole mechanism better than words, so feel free to check it out and let us know how you think this adds to the smartphone's use as a medical device in the comments below.
http://www.phonearena.com/news/Smartphones-and-tablets-as-medical-devices_id21791