Note 7 unboxed, 4GB/64GB confirmed, gold, black and gray versions shown
40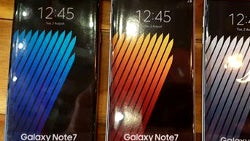 Oh boy, oh boy, the
Note 7
rumors started with a few drops just a month go, for all to be leaking like a broken dam wall today. Hot on the heels of the
Sprint planogram
and several live pics of the device now comes the specs confirmation, courtesy of the box itself.
The wrapper, as you can see below, is from the Korean version of the handset for SK Telecom, with an octa-core Exynos inside, while the US will most likely snatch the Snapdragon version, like it happened with the
Galaxy S7
and
S7 edge
. The screen diagonal translates to 5.665 inches, which will most likely be rounded up to 5.7" in the official specs. There is nothing written here about an "edge" or curved display, though - things that make you go hmm. The most important thing we see is the confirmation that the Note 7 will start off with 64 GB storage, which is pretty svelte, since the price won't be for the faint of heart anyway.
The speculation that Note 7 might come with 6 GB of RAM will apparently be left for some other year, but the waterproof chassis everyone was tipping about is indeed present, and with IP68 certification at that, meaning that you can plop the Note 7 in three feet of water for at least half an hour and nothing would happen to its internals. Heck, you can even
jot down notes under water
, in case you are a swimming pool biologist or something.
Wait, there is more - from the giving BBS forum boards come three color models of the Note 7, taken out of the box, and rotated a bit for a few blurry hands-on photos. The gloss that emanates from the surface is likely from the protectors that are still glued to the phablets, or maybe the units are just dummies for carrier purposes, yet the pics confirm once again the curved display, color-coordinated S Pen top, and, of course, an USB-C port. Take a look.