Not The Onion: Nivea made a smartphone case and an app to tell you how much you stink
6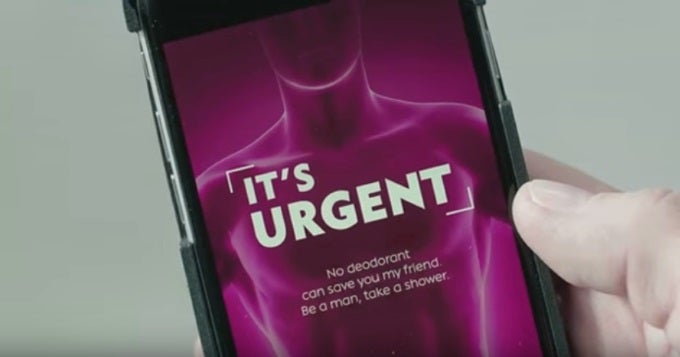 Did you grow up and become a man, only to find out that you mistakenly pulled a fistful of smelly armpit genes out of the vast DNA pool, rather than the Brad Pitt genes you could have gotten? Sorry about that, better luck in your next life! Nivea, though, won't stand idle and watch you sweat in reeking misery. After all, the company's bread and butter is selling stuff that makes you smell and look like the sophisticated man you are, not like the king gorilla in the zoo.
Nivea's presence on the tech front might be limited, but they too smelled business opportunity in mobile, so it was only a matter of time before they came up with something amazing. Like an app plus German-engineered smartphone case combo that takes a liberal whiff of your armpit juices and assesses the severity of the condition based on a proprietary algorithm calibrated with the scent of 4,000 perspirating dudes. Wow!
According to Nivea, humans are generally pretty bad at smelling their own odor, and men in particular have 40% less stench-perceiving brain neurons than women. Coincidentally, they are also found to sweat more. Yikes! Recognizing the problem, Nivea invented the NOSE app and case and plans to test them around the world before unleashing the double whammy on the market. The smartphone covers are equipped with special sensor-flaunting gadgetry and are going to be sold as part of a body care package, while the apps will be available in the App Store and Google Play.
Nivea also thinks that such technology will come natively within smartphones of the near future. Indeed, we can easily see the likes of Samsung and LG implementing a smell-o-meter app inside their human-friendly software, spawning a generation of sweaty men holding their phones under their armpits in anxious anticipation of the result. Greatness awaits!
The promo video is available below. Watch it for the laughs and move on with your life.
via
Tech Times