Nokia patent reveals company has been working on tablet back in 2011
14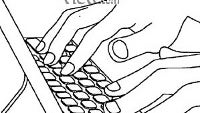 A patent filing does not mean all that much in today's world and it certainly does not necessarily indicate an upcoming product, but this one does show that Nokia has been doing work on a tablet with a unique keyboard cover/case. The mysterious "Apparatus Cover with Keyboard" patent filed way back in October 2011 shows a keyboard cover that folds in a variety of ways.
Sure, the patent is filed in a period when the Surface tablet did not exist. And sure the Surface tablet might have spoiled some companies' plans. But it's good to know Nokia has been working on designs for tablets nearly a year and a half ago, and chances are it is still looking at this form factor.
Nokia CEO Stephen Elop has most recently dropped a hint that Nokia might be working on a tablet and he made it perfectly clear that Nokia can compete with Microsoft in the space.
"We haven't announced tablets at this point, but it is something we are clearly looking at very closely," Elop said in an interview in February. "We are studying very closely the market right now as Microsoft has introduced the Surface tablet, so we are trying to learn from that and understand what the right way to participate would be and at what point in time."
source:
USPTO
via
Unwired View