Nokia announces three new mid-level phones
0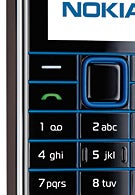 Nokia 3500 classic istri-band GSM candybar with 2-megapixel camera, MP3 player and FM radio. ThemicroSD slot will allow you for up to several GB of storage, on which to putthe music files for the MP3 player. The phone runs on Series 40 interface andits display is with resolution of 128x160 pixels.
The third new phone isthe 6121 classic, and it is actually a variation of the 6120 classic. Series 60smartphone, it is elegant candybar with 2-megapixel camera and microSD cardslot. Like the 6120, the 6121 is quad-band GSM but it has different UMTS bands:900/2100 MHz, instead of 850/2100 MHz which allowed it to work in the US. Thisnew version is not meant for the US, where the 6120 can be used.

All the three phonesare scheduled for Q3 release.
source: Nokia