Nokia Lumia 925: what PureView Lumia should have been originally
40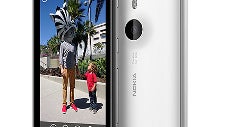 The
Nokia Lumia 925
has just arrived and we can't shrug off the feeling that it is the Lumia that Nokia should have announced last year - slimmer, lighter, with an aluminum frame and a PureView camera yet with the same sized battery.
There is definitely nothing new in terms of processing power and screen technology. The Lumia 925 has the same 4.5-inch 768 x 1280 pixel display (this time it's AMOLED, like on the Lumia 928) with super sensitive touch.
The handset also features the same old dual-core Snapdragon S4 with 1GB of RAM, a configuration that sounds decidedly mid-range nowadays. The camera looks like the same 8.7-megapixel one with a optical image stabilization and Carl Zeiss lens. It's also got Wireless Charging and it also makes the phone thick as you have to dress it in a special case.
The Nokia Lumia 925 is basically on many levels the same old Nokia Lumia 920 but without its heft and bulkiness, and with a sleeker camera interface. Nokia calls it Smart Camera and plans to bring it to all other Windows Phone 8 Lumias. Is it worth upgrading to the Lumia 925 now? Probably not, but for new users wanting to explore Windows Phone this seems like the new standard.
And here is a recap of the Lumia 925 features and spec highlights.
Recommended Stories