Nokia's American expansion starts on a budget with the 2V on Verizon and the 3.1 Plus for Cricket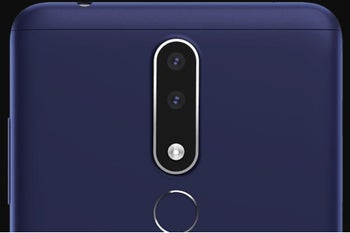 Let's face it, US carriers have a woefully poor phone brand portfolio compared to other countries, as you can see in the
Statista chart
below. Unlike many foreign carriers, they mainly offer iPhones and Galaxies, while the rest is single digits in market share, spread among LG, Motorola, ZTE, Google's
Pixel
and "other" brands. The world's second-largest phone maker is nowhere to be seen, while former stalwarts like HTC or Sony are barely hitting one percentage point, bummer.
That is why it is always exciting when a new entrant managed to pierce through on America's largest carriers, especially one with such a nostalgia-loaded brand like Nokia. That's right, a few budget handsets from the Android manufacturer will be making their way in Verizon and Cricket's stables.
Nokia 2 V is the maker's first phone on Verizon
Nokia chose a brand new phone to make a cameo on Verizon, and it managed to achieve a great balance between specs and price. Featuring a "Nordic" design with stainless steel metal accents (to emphasize the stereo speakers, for instance), the
Nokia 2 V
is touted as one with two-day battery life. How did Nokia manage to pull this off?
Well, with a combination of the power-sipping 5.5" HD+ display and entry-level Snapdragon 425 processor, paired with a huge 4000 mAh battery pack. Fret not, though, as the
Nokia 2
V features fast charging to top off the battery quicker.
On the camera front, there is an 8MP shooter on the rear, and a 5MP one at the front and the only ho-hum part when it comes to specs is the lowly 8GB of basic storage, which, however, can be expanded further via a microSD card. All in all, the Nokia 2 V has all the makings of a great choice for Verizon's prepaid portfolio on offer.
Nokia 2V price and release date on Verizon
The Nokia 2 V will be available in Verizon stores and on VerizonWireless.com next week, on January 31, at a price that is yet to be pinpointed but sure to be in the mouthwatering budget range. Considering that the
Nokia 3.1
Plus for Cricket will sell for under $160, we can bravely expect the 2 V for Verizon to be even more affordable given the specs we detailed.
The Nokia 3.1 Plus is the first Nokia phone on Cricket
Being on Cricket Wireless whose network piggybacks on AT&T's towers, means that Nokia actually managed to appear on America's two largest carriers in a way which is a commendable achievement, albeit in the low-end of the smartphone spectrum.
The
Nokia 3.1 Plus
with its 5.99-inch display and 18:9 aspect ratio isn't just a bigger counterpart to the
Nokia 3
.1. It actually has new hardware under the hood and different exterior design, too. An octa-core Snapdragon 439 with the new power-sipping 12nm process for Qualcomm's midrangers runs the show and aids the promised "two-day battery life" from the 3500 mAh battery that is made possible by the HD+ resolution of the screen.
In the camera department, the dual setup on the back has a 13MP rear sensor that sports Phase Detection Auto Focus and a depth-sensing 5MP sensor for portrait bokeh blur that can be adjusted even after the image has been taken. An 8MP front camera takes care of your selfie game, and the fingerprint scanner is conveniently located on the back, what more can you ask for from a budget 4G-capable handset. To top it all off, it is an Android One device, so major software updates should land right after Pixel phones if the ways of Cricket permit it.
Nokia 3.1 Plus price and release date on Cricket Wireless
Cricket is getting the variant with 3GB of RAM and 32GB of storage, not the lower-priced version with 2GB of RAM and 16GB ROM, but you can only get it in blue. At the $159.99 suggested retail price, one can't be too picky. The Nokia
3.1 Plus
is available at Cricket Wireless retail stores and on CricketWireless.com immediately. Any takers?