No 3G love for North America as the HTC Desire HD enters the FCC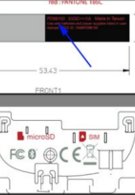 When it all comes down to 3G or even 4G action, the HTC EVO 4G stands as the only solution for those who want to experience an Android device packing a massive 4.3" display with at least 3G support in North America. Although the recently unveiled HTC Desire HD has been able to stir things up for our friends across the big pond, it appears that it'll only be able to reach its full potential outside of North America.
The HTC Desire HD recently entered the great halls of the FCC where its filing can be traced back to the device announced in Europe after spotting the product code "PD98100" on it. So it basically means that the handset seen by the FCC does not have support for North American 3G bands – hence why the EVO 4G is still the big name on the block over here. Sure the HTC Desire HD offers a lot of hope to GSM users all around the world, but sadly, North American users will have to look elsewhere since the Desire HD won't be flaunting support for current generation data speeds over here.
HTC Desire HD Specifications
|
Hands-on
source:
FCC
&
Engadget