Nintendo Switch Parental Controls app let's you limit non-existent online gaming
2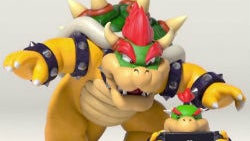 The Nintendo Switch officially gets released tomorrow, but Nintendo is prepping by releasing the Switch Parental Controls app for both Android and iOS users. The app does much what you'd expect allowing parents to limit how long kids can play games on any given day, limit what age rating games can be and more. However, the video that accompanies the release is very interesting to say the least.
The video follows Bowser and Bowser Jr (Nintendo's most famous father-son duo, surprisingly enough) as it discusses the features of the Switch Parental Controls app. If you don't want spoilers, you can watch the video below then come back for the commentary. If you don't mind spoilers, the first weird thing is the overall tone where Nintendo is obviously assuming the parents using the app do not understand games, gaming, or even their own children. Sure, it's a nice idea that using the app to know what games your kids prefer so you can engage them on the topic, but it feels odd for Nintendo to tell parents to only use the auto shut-off timer as a last resort or else their kids might go insane.
The other interesting bit of the app is the ability to "restrict online communication and social media posting until your child is more prepared for online play." Again, nothing wrong with this, it's a great feature to have, except the Switch doesn't have those features yet. For whatever reason, Nintendo felt it had to rush out the console, so online play won't be available until this fall.
Still, you can get ready if you want to. Also, we were hoping to see a mention of the "safety feature" that Switch game cartridges taste awful so kids won't eat them, but the video doesn't cover that topic.