Nintendo announces new Pokemon game for Android and iOS devices
2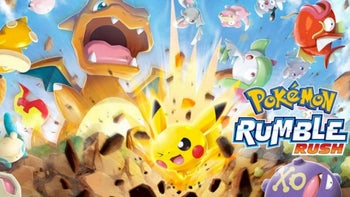 As expected, Nintendo is bringing another Pokemon game to Android and iOS devices. The game is called Pokemon Rumble Rush and is already
available for download
if you have an Android device and live in Australia. Otherwise, you'll have to wait a little bit longer, according to Nintendo.
Just like the
current Pokemon game
where you have to hunt for little creatures with your phone, Rumble Rush sends players to explore uncharted islands and battle wild Pokemon in the hope that some of them will join their teams.
As you're building your collection of Pokemon, you'll be able to take on even more powerful little beasts. On top of that, the more you collect the same species of Pokemon, the stronger they'll be when they join you.
And that's very important since you'll need a very powerful party of Pokemon to take on the islands' Super Bosses. Moreover, in Rumble Rush, you'll be able to gear up your Pokemon before you get into battle to make them deal more damage or tank better.
Apparently, there are two types of gear included in the game: power gears and summon gears. The former boosts Pokemon's stats and make it more effective in battle, while the latter allow Pokemon to temporarily call another Pokemon into battle.
Although Pokemon Rumble Rush will be available as a free-to-start adventure, it will include in-game purchases, which will allow players to buy items using real-world currency.