Nikon bringing DSLR wireless control, photo transfer to Android devices now, iOS in the fall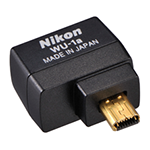 Nikon has announced they will be connecting the world of Digital SLR (DSLR) photography with Android devices (and iOS devices coming in fall 2012) via a dongle called the Wireless Mobile Adapter WU-1a. The $60 dongle will connect your Android devices, as long as they are running Android
2.3
(Gingerbread) or higher.
The device, which pairs with an app that is soon-to-be available in the Google Play Store, allows you to transfer photographs from the camera to your smartphone or tablet wirelessly, as well as letting your mobile device act as a viewport and remote shutter release. While the ability to move your DSLR shots over to Facebook or Instagram may be of more interest to well-healed non-professional users, we expect the ability to frame and snap photos remotely from a tablet or phone could find its way into many studios.
For now the new-found abilities only works with Nikon's prosumer D3200 DSLR, but we'd expect to see it expand to more cameras as time goes on. Below you can check out Nikon's in-depth description of features:
Function for transferring data to smart devices (Android) over a wireless connection
Images captured by the D3200, or already saved to a memory card inserted in the D3200, can be transferred to a smart device over a wireless connection. Transferred images can be viewed in the smart device display, or uploaded to a blog or social networking site to share beautiful photographs with a broader audience.
Remote shooting from a smart device (Android)
The camera's live view display is shown in the smart device screen, enabling remote control over shooting. The live view display shown in the smart device screen always shows the current view through the lens mounted on the camera (live view display), allowing users to accurately frame and predict results with remote control over shooting. Basic information, including the camera's battery indicator, whether or not an AC adapter is connected, and number of exposures remaining, as well as shooting information such as shutter speed, aperture setting, and focus points is displayed in the smart device screen.
For more product information check out the source link below.
source:
Nikon
via
Droid-Life