Night Shift toggle might be coming to iOS 9.3's Control Center, but only for the iPad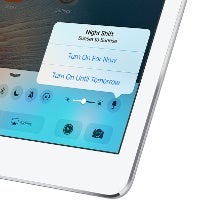 The beta of iOS 9.3 is already here, treating us to a pretty nice set of new features and functionalities (you can check out our preview based on the beta right here). While the majority of Apple users who are not keen on meddling with beta software are patiently waiting for iOS 9.3 to officially roll out, we are constantly getting new hints of some features that might or might not make it with that release.
One of the highlights of iOS 9.3 is Night Shift, a rather useful feature that reduces the amount of blue light your display emits, thus reducing eyestrain and making it easier for you to fall asleep in the evening. You can manually enable it or schedule it, but it seems that Apple will be making it easier for users to turn it on or off.
Observant redditors have spotted a new Night Shift toggle in the iPad's Control Center, situated right to the brightness adjustment slider. Tapping it opens up a menu that allows you to turn it on right now or enable it until the following morning. Said shortcut was found in the iOS 9.3 preview page on Apple's Canadian website and is likely to arrive with the public version of iOS 9.3. While no iPad users running the beta have it, one US-based redditor claims he has the new toggle on his
iPad Pro
and iPad Air 2 slates. However, he also says that he is running a special beta focused on the development of educational apps, which is most certainly the reason why he has the new Control Center toggle and others don't.
Unfortunately, we suppose that this new Night Shift toggle might not make it to the iPhone, as the space there is limited and to be honest, the Control Center of Apple's iPhones are already a bit overcrowded. We highly doubt that Apple will be able to fit in another toggle without drastically rearranging the layout of the menu. Who knows, probably some day we will be allowed to choose the toggles we want to show up in iOS' Control Center. A man can dream.
We suppose that we will have to wait for the official iOS 9.3 release in order to see what's Apple planning to do with the handy Night Shift toggle.
Read more: