Nielsen presents ratings and stats on downloading apps
This article contains unofficial information.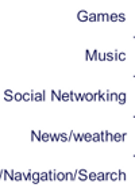 The Nielsen company, the firm behind those famous television ratings, now offers something it calls the App Playbook. 4,200 people who have downloaded an app within the last 30 days, were surveyed for the book. According to Nielsen, 21% of Americans owned a smartphone as of the end of the fourth quarter of 2009. That is a small increase from the 19% that owned a smartphone after Q3 of 2009, but a big increase from the 14% total a year earlier. 14% of cellphone users have downloaded an app in the last 30 days. Smartphone owners have an average of 22 apps on their phone compared to just 10 for feature phone owners. Perhaps that shouldn't be surprising. Neither is the order of phones that have the most apps installed on average. The iPhone leads the way with 37, followed by the Android's 22, webOS with 14, Windows Mobile with 13 and BlackBerry with 10. This might have more to do with the user of the phone than the actual number of apps available. For example, while iPhone and Android users would normally seem to be the most interested in third party developers, many BlackBerry users are the staid, button down type that would have no interest in downloading a bar code reader or a game. Games, in fact, are the most downloaded app-paid or free-according to Nielsen. The three most popular installed downloads are Facebook, Google Maps and The Weather Channel. In the past 30 days, the top 3 categories of downloaded apps came from games, music and social networking sites in correct order.
source:
Nielsen
via
ReadWriteWeb