NexPhone - a device that is also your tablet, laptop or PC
56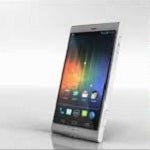 A concept brewing at a Bay Area start up called NexCrea uses Ubuntu for Android software to round out the intended experience of a one-device-for-all.
The idea is counter to the notion of syncing multiple devices via the cloud. Instead, the handheld device is the engine behind all form factors. Need a laptop? Use the NEX series laptop dock, NEXLAPTOP. Want to bring a tablet along for the trip? Try the NEXTABLET. Settling in at home in the den? Place the handheld on the NEXMONITOR.
There are no specifications on the device, but we expect that for it to be commercially feasible, it would have to pack some leading edge hardware, be highly battery efficient and have a lot of memory. If they pull it off, the NexPhone concept does have merit. NexCrea is positioned to use crowdfunding to bring the concept to fruition. If funding goals are reached, they say NexPhone will be available to consumers in 2013.
Does this idea appeal to you as an all-in-one versus having to rely on the cloud for syncing everything between devices? Or, maybe this will shift the dynamic on how cloud computing might be used – needing the cloud to back-up and service only one device entirely. Check out the concept in the video below and tell us what you think of the idea.
source:
NexCrea