News Bits: iPhone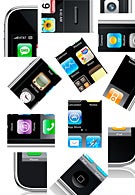 The media/consumers continued their iPhone infatuation this week, with iPhone-related news coming thick and fast. The more interesting bits of news include:
1.
Roughly drafted's
explanation of the reasons behing the iPhone's connectivity woes - iPhones without the latest 2.0.2 firmware have faulty "power control" algorithms which result in network overload. Further explanation
here
.
2.
Apple
confirms that a security flaw which allows use of an iPhone
even when the device is password-locked
will be updated in September's
2.1
patch.
3. More photos are found on "new" iPhones. The last time we saw
photos of an iPhone factory
apparently taken by mistake, this time we have photos of a girl who is a
Foxconn employee
(and who is not enjoying the attention).
4. iPhone data plans are getting better - Canada's largest carrier. Rogers,
announced
that it willextend it's CAD 30-a-month data plan which allows 6 GB ofdata a month, until the end of September instead of allowing the offerto expire. Singapore's Singtel, after
announcing
ratheranemic data plans now allows iPhone subscribers to add 50 GBof data a month (download 1 Mbps/ upload 384 kbps) for just SGD 11.21(approx. USD 8). This plan became available in-store upon requeststarting from 28 August, although
Singtel's iPhone page
has not been updated to reflect this option.
5.
Rumor:
Steve Jobs
emailed a Gizmodo reader
saying that Apple is negotiating with AT&T to add a tethering option for the iPhone.