New software update for the MOTOACTV packs improved battery life and more
6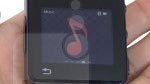 Consider yourself lucky if you happen to own the fitness oriented
MOTOACTV
, well, that's because someone out there loves you and is watching over you. Either that, or they simply have a bottomless pocket stuffed with plenty of moolah. In any event, there's a new software update available for the
fitness meets music accessory
.
Both 8GB and 16GB are seeing the same update, but their respective versions are
4.55.76 and 4.56.76
. Above all, the biggest thing coming along for the ride with the new update is
improved battery life
for the MOTOACTV – in fact, it's touted to offer up to
8 hours
of continuous usage with outdoor activities. Additionally, it spots the usual set of bug fixes, screen optimizations, and the option to include multiple activities to your workout.
In our own review, we did see the MOTOACTV reporting some
phantom steps while simply waving our arm
with the MOTOACTV on – so let's hope that's addressed with the bug fixes. Other than that, the better battery life should vastly impact owners who use the device on a religious basis.
In order to install the update, all you have to do is connect the MOTOACTV to your computer, and then on the MOTOACTV, tap DEVICE>Check for Device Upgrade. Simple enough, right?
source:
Motorola
via
Android Central