New pictures of HTC M8 appear
64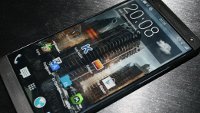 Ever play Whack a Mole? That's the game in the arcade where you are given a mallet and asked to bop moles on the head, knocking them down. As one mole goes down, another one pops up. What calls this game to mind is the recent characterization of a leaked picture of the HTC M8 (aka the
HTC One 2
)
as a fake by Marc Moons
. Moons is the Director for HTC in the Benelux region, and as such, he should know a thing or two about what the manufacturer is working on.
No sooner do we get the word from Moons about the picture being fake, than two more leaked photos of the M8 appear. Is this a new global cottage industry? The new leaks come to us by way of Russia and include some specs. The phone is expected to feature a 5 inch screen (.3 inches more than the HTC One), a 1080 x 1920 resolution, quad-core Snapdragon 800 processor, 2GB of RAM and a dual-sensor 5MP Ultrapixel snapper on back. Android 4.4.2 powers the device out of the box. The navigation keys are apparently on-screen as expected, and the Boomsound speakers remain from the
HTC One
.
The other day, master leaker evleaks tweeted that the HTC M8 looks "
strikingly like
" the M7. The pictures below would certainly fit that description, but we warn you to take these photos with a grain of salt. It is okay to be skeptical, especially with a high profile phone like the M8.
You can check out the latest leaked photos of the HTC M8 in the screenshot below.
source:
Mobiltelfon.ru (translated)
Recommended Stories