New pics of ZN4 and VU30 for VZW
28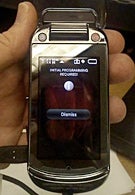 Blaze ZN4
appeared in the end of June, but now a couple of new live photos leaked, meaning the phone is probably still part of VZW's upcoming line. It has strange MING-like form-factor, with transparent cover and touch screen underneath. There is no solid information on its specs, but unfortunately, it is expected to be a mediocre device compared to VZW's best touch phone, the Dare.
Motorola Blaze ZN4 Preliminary Specifications
Another couple of pictures, showing the
Rapture VU30
, give us hopes this pretty glossy clamshell will hit the shelves soon. It is displayed in dark blue shade, but we won't be surprised to see also a pink one at its launch date.
Motorola Rapture VU30 Preliminary Specifications
If the rumors are correct, the Rapture VU30 will be available on September 09 and the Blaze ZN4 will come before the next month is over.
via
Ho-Fo