New iWatch concept render takes inspiration from the Nike Fuel band
13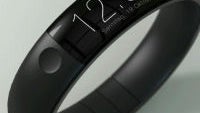 Apple didn't even make a passing remark that could be misconstrued as being a hint about a possible iWatch in the works, so that means it's time to go back to rumor, speculation, and the most fun of all: concept renders. The newest concept render of the iWatch comes from Thomas Bogner, who has obviously taken his inspiration not from any Apple products, but from the Nike Fuel Band.
It leads to quite an interesting concept for the device and not one that you would normally expect. The general consensus when it comes to smartwatches is that you would probably want something of a square display in order to show the most information at a time. Bogner has decided that maybe a thinner, wider display could work just as well (assuming you pare down the functionality of the device to only the uses best suited for a watch, meaning no photos or video).
Bogner's concept of the iWatch would feature Siri voice commands, and access to apps like like Mail, Messages, Calendar, and Music, as well as integrated Nike fitness software (obviously). It is certainly one of the more innovative ideas we've seen, which is why we thought it worthy to pass along.