New iPad (3) Review: Q&A
19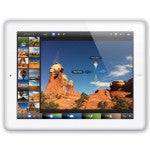 Alright, people, the moment has come - the new iPad is here, and we've given it a good, personal, in-depth look. In short, our
iPad (3) review
is now published, answering pretty much every question that you may have about the tablet. Oh, wait - this just isn't possible! There's no way we've said absolutely everything that can be said about the device. We're fully aware that our review will be read by many different users out there, each one with their own needs and interests. And as hard as we may try, we simply cannot delve
that
deeply into the device's offerings.
That's why we've come up with this sweet Q&A post, where you can ask all the questions you have about the device, that remained unanswered even after reading the review. Of course, we'll have to ask the most
passionate
fans out there to withhold from commenting (in case they don't have a specific question, that is), because that could make the experience of everybody else somewhat frustrating, and our goal here is to actually be of use to someone.
In order to ask questions, simply post them in the comment section below. We'll do the needed research (if needed) and answer them in a new post in the beginning of next week.
So, what would you like to know?