New ad for the Apple iPhone 5 highlights "Do Not Disturb" feature
46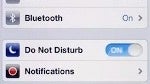 It's the 7th game of the NBA finals and there you are on the court at the American Airlines Arena, wearing your
Miami Heat
jersey. Time is running down and as you move closer to the hoop, totally undetected by the Clipper's defense, you notice LeBron James giving you a subtle nod of the head. It's the signal! You grab the pass from LeBron and are about to slam the ball in the hoop for the title-winning basket when...you hear your
Apple iPhone 5
ringing, waking you up from a great dream.
Your dreams don't always have to be interrupted by your Apple iPhone. A feature called "
Do Not Disturb
" is the highlight of a new ad for the device. The application allows you to block calls for a pre-set period of time from everyone except certain numbers that you select. After all, some phone calls are worth interrupting a great dream to take.
In the new ad from Apple, you happen to be playing table tennis with the Williams sisters (and kicking their butt), which is something that you wouldn't want to be interrupted doing. What dream would you hate to see interrupted by your ringing handset?
source:
YouTube
via
TUAW