New Verizon iPhone 4 cases courtesy of Case-mate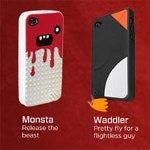 Merely two days after the unveiling of the much rumored Verizon version of the Apple iPhone, Case-mate has posted 5 new cases for sale to get everyone ready for the arrival of the CDMA iPhone 4.
Case-mate is certainly not new to making cases for the Apple iPhone; in fact they even make cases for the AT&T version of the iPhone 4. As you know, due to the
changes in the antenna design
Apple had to do to get that CDMA going, most of the current AT&T iPhone 4 covers won't fit on your Verizon iPhone 4. That's why Case-mate has acted swiftly to deploy these new redesigned cases, specifically crafted for Big Red's version of the iPhone 4.
Check out the picture below of the 5 cases that they are offering for the Verizon iPhone 4. You must admit, they are kind of cool looking, if not a little strange. Especially that one on the left they call "Monsta." Tell us which case is for you, if any, in the comments below.
source:
Slash Gear