New Sony Xperia Z5 ad demonstrates the effects of SteadyShot stabilization
39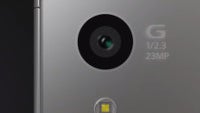 While Sony doesn't market optical stabilization alongside its new Sony Xperia Z5, the company did share with us that both software and hardware components work in sync to suppress shake when taking video. In our experience, the so-called SteadyShot Intelligent Active Mode stabilization does the job exceedingly well, and Sony is intent on making the most out of this advantage in order to convert buyers.
A new ad, published yesterday on the company's official YouTube channel, compares identical footage taken by an Xperia Z5 with SteadyShot both on and off. The results, as you can imagine, are pretty impressive, and we're glad to see that Sony picked some truly tricky scenarios to showcase the effect — like biking through a grass field. We can see that the Z5 does pretty well even in such conditions, and actually rivals the best in the business — if not beat them.
We're certainly itching to take the Xperia Z5 lineup's new, 23-megapixel camera for a spin and see if it'll meet or even surpass our expectations. Given the company's claim that the
Sony Alpha team
was involved with the shooter on the phone, we're hoping for the latter!