New Pebble firmware adds emoji, iOS 8 support and more
4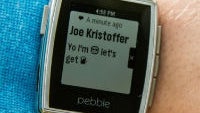 Pebble has new competition in the smartwatch space with Android Wear on the market, and the Apple Watch on the way. Obviously, that means Pebble will be working to upgrade its offerings and keeping giving users a quality experience. Today, Pebble started pushing out firmware version 2.5, which adds a number of features, including emoji support.
Until now, if you received a message with emoji characters, they wouldn't show properly on the Pebble, but that has finally been fixed. Beyond that, Pebble has finally added support for the magnetometer in the hardware. Before now, many users probably forgot that the sensor was even in the Pebble, because developers couldn't use it. Now, support has been added to the SDK, so there should be a number of compass apps coming to the smartwatch.
Lastly, and maybe most importantly, Pebble firmware 2.5 also adds support for iOS 8. A nice addition to iOS support is that when you dismiss a notification on your Pebble, it will be removed from your phone's notification tray as well. Pebble says similar functionality is coming to Android eventually.