New Netflix app can be a remote for the PS3 app
7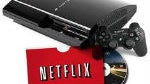 Netflix updated its iOS and Android apps with a
brand new interface
recently, but that wasn't all that changed in the app. Apparently, there was also a hidden and undocumented addition to the Netflix apps which will allow it to act as a remote for the Netflix app on your PS3.
The second screen remote control feature only works on the PlayStation 3 as far as we've heard, so Netflix users on Roku or Xbox 360 seem to be out of luck right now. But, if you have a PS3 and a mobile device on the same local network, you'll get a new option in the app to choose where to play a video after browsing as normal. While the video is playing you still have full control to stop, pause, seek to a specific moment, change the audio or subtitles, choose a different episode, or switch videos completely.
It's always fun to find extra goodies, and this is a pretty nice one. Check the video for a demo.