New Microsoft video shows how to upgrade to Windows 10 Mobile from Windows Phone 8.1
11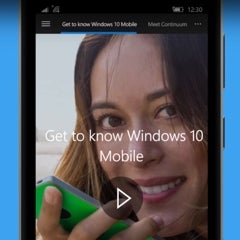 After an unexpected number of
delays
, Microsoft today finally
started rolling out Windows 10 updates
to Windows Phone 8.1 devices. Unfortunately, not all current Windows Phone 8.1 handsets are getting the Windows 10 update. That's because, as Microsoft puts it, "many older devices are not able to successfully upgrade without an impact on the customer experience."
Right now, these are the smartphones that can be officially updated to Windows 10: Lumia 1520, Lumia 930, Lumia 640, Lumia 640 XL, Lumia 730, Lumia 735, Lumia 830, Lumia 532, Lumia 535, Lumia 540, Lumia 635 1GB, Lumia 636 1GB, Lumia 638 1GB, Lumia 430, Lumia 435, BLU Win HD w510u, BLU Win HD LTE x150q, and MCJ Madosma Q501 (this one's a Japan-only handset, that's why you probably never heard of it).
As you can see, some important handsets - like the Lumia 1020, Lumia 925, or Lumia 630 - aren't getting the official update. We don't know if things will change in this regard, but we're going to let you know as soon as Microsoft announces anything about this. Until then, for those who
can
update their Windows Phone 8.1 device, Microsoft released a video - embedded below - showing how the update is done. You'll need to use the Update Advisor app - if you don't have it, you can download it for free from Windows Store - and simply follow the instructions on screen.
Once the update is complete (preferably over a Wi-Fi connection), a Get Started app can show you what's new in Windows 10. Did you receive the update? If yes, are you happy with your Windows 10 phone now?