New HTC One Max photos pit it against the Galaxy Note 2 & 3
39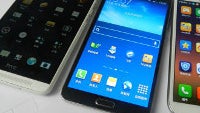 Considering the ever accelerating pop-up rate at which rumors and leaks surrounding the HTC One Max, HTC's forray into thephablet space, it would appear that the Taiwanesecompany's turn to awe us is coming up. In fact, we've hadmore than enough pieces of the puzzle, allowing us to piece together arather extensive picture of what you should expect if you'redigging the premium look and feel of the HTC One, but are in themarket for a bigger screened device.
But, as is the nature of mostthings, the HTC One Max won't be released into a vacuum, and judgedon its own merits alone. Rather, it will be going through a prettyrough inspection of its every crook and cranny, and more importantly– will be compared inch for inch with the now increasingly ruthlesscompetition. Today, we're having our first look in that particularregard, for a bunch of new snaps of the HTC One Max have leaked, oneof which pits it next to the Galaxy Note 2 & 3. As you're aboutto see for yourself, the larger 5.9-inch HTC One Max appearsperceptibly taller than Samsung's offerings, though the width of thedevice has been kept in check.
A rather interesting feature that theHTC One Max is shown off sporting, is the apparent ability totransfer your data from your previous device, regardless of brand.Unsurprisingly, the new snaps confirm that 4G connectivity is bakedright in, though at this point we should probably take that asgranted.
Exact release date for the HTC OneMax remains unknown, though rumors point towards a Q4 2013 launch.
source: Weibo via SIMOnly Radar