Google implements a feature to mute reminder ads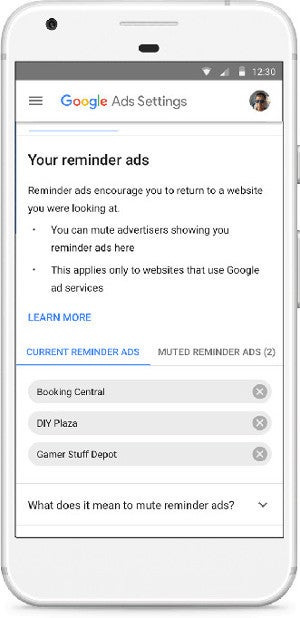 Congratulations, reminder ads are now mutable for a maximum of 90 days, as stated by Google! But what exactly are those, and why are we happy that we finally have control (although not complete) over them?
Reminder ads are pop-ups, prompting you to buy something, and are most likely to show up if you've recently looked up something in an e-shop. These pesky intruders can offer you everything from a pair of socks to a brand new car, and are quite adaptable, meaning they know exactly what you want and when you want it. But how they've become so smart, knowing exactly what you want? Well, with the help of Google Ads, of course. Reminder ads are only visible if the advertiser is using Google's advertising program, and the process goes something like this:
Advertisers keep a list of visitors, which you are added to if you.. visit the site (surprise, surprise)
The list is then provided to Google (the part where it already knows your interests)
Ads are brought to you on your PC or smartphone
You can disable reminder ads, following these 4 steps:
Log into your Google Account.
Go to Ads Settings.
From then, go to "Your reminder ads."
Click the X next to an advertiser in order to remove their ads from showing.
This newest feature could be taken as an improvement to the already existing "mute this ad" option, which was launched back in 2012 and lets you mute a single ad. There's a difference though - "mute reminder ads" disables ads from the whole domain, not just a single one. Google is currently working on integrating websites into its new system.