Neutrano shows off a watchphone line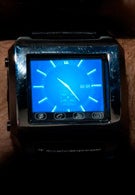 In spite of the buzz around LG's watchphone, the GD910, there seem to be many similar products. All sorts of Chinese manufacturers are releasing devices of this kind, equipping them with touchscreens, handwriting recognition, cameras and music players. The Canadian firm Neutrano is collaborating with one of those Asian manufacturers and the result is has been showcased at the CTIA expo – a line of watchphones featuring the above-mentioned extras. As you can see from the pictures, they don't have the exquisite design of the GD910, but look OK. In one of the models, the manufacturer has incorporated a solution for receiving calls, in case you don't have a Bluetooth headset. Instead of putting your wrist to your ear, the body of the watchphone can be unhooked and used as a standard phone. We don't like the interface, because it offers very limited functions. For example, if you want to switch between the music player and the messages, you have to return to the main screen first (which shows off a clock).
The price of these devices will range from $300 to $400 and they will hit the stores in June. Neutrano is also working on different color schemes for the bodies and the bands of the watchphones. How would you like your future watch, Mr. Tracy?
source:
EngadgetMobile