Netflix deal adds NBC shows to mobile stream
1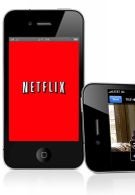 The
streaming Netflix service
has now been expanded to include much of NBC's network and cable content, making our mobile (and at-home) viewing experience even more satisfying.
The deal, announced today, includes the addition of every season of "Saturday Night Live", as well as day-after replays of current episodes. It will also include every episode of "The Office", "30 Rock", "Law & Order: SVU", and "Friday Night Lights".
NBC Universal will also throw in shows from their USA Network, like "Psych", "In Plain Sight", and "Monk". As if that weren't enough, many episodes from Syfy's "Battlestar Galactica", "Destination Truth", and "Eureka" will also be included.
The agreement comes as NBC Universal is in faltering negotiations with Apple over its proposed 99-cent renting model. Users of Apple TV will also have access to their streaming Netflix account, so they can bypass the rental model for NBC content.
While the Netflix streaming app is currently only available on the iPhone, iPod Touch, and iPad, Netflix seems to be
developing a version for Android
as well.
This development comes as a significant blow to other mobile television competitors like Flo TV and MobiTV.
source:
Netflix
via
IntoMobile