Need a laugh? Saturday Night Live has 40 years of skits you can view with its iOS app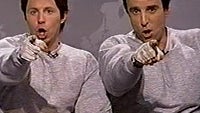 Saturday Night Live is an entertainment icon in the US, and for over 40 years it has been the roots of culture-changing talent like Eddie Murphy, Chevy Chase, Steve Martin, Dennis Miller, and John Belushi.
NBC Universal has put together a nifty looking app for iOS that, rather than streaming full episodes from only a couple seasons available on Netflix, offers on-demand access to specific skits spanning the whole 40 years SNL has been on the air.
Of course, you can view most of the skits from just about any episode so you can get most of a show to watch if you like. On top of that, the SNL app has never-before-seen segments, including skits that were cut for time, before they are uploaded to the show's main web-site. In all, there are more than 5,500 sketches to view, and you can search by comedian or character to find the video you want.
Not every single skit is available, and musical appearances are not part of the package, but it beats hunting down that one bit on YouTube, or searching an entire show on Netflix if you need a quick break. To boot, the SNL app also features a bunch of show related emojis to share the mood while you are messaging with friends.
The plus to all of this content is free access. So, get pumped up and see the source link to download the SNL app for your iPhone or iPad.
sources:
iTunes
via
Engadget