Need a back-up phone that fits in your wallet? Check out Micro-Phone
14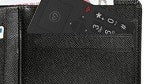 We can think of all sorts of great applications for a device like this. This credit-card sized mobile phone is perfect for someone that does not want to bring their high-end device with them for some reason, or want to have a back-up device in case their primary one is lost, stolen or broken.
Or, maybe you have a kid and do not want to give him or her a high-end feature or smart device, they can tuck this thing away and not need to worry about it.
Even better, is that the folks at Micro-Phone are offering a locator application as a companion to the phone, enabling you to find the Micro-Phone using an iOS or Android device. The Micro-Phone is only 54mm wide, 85mm tall, 5.5mm thin and weighs less than 40 grams.
The best part? Micro-Phone has already hit its initial funding goal on Indiegogo, so if you want one of these, all you have to do is back them at a discounted rate and you will definitely have one in your hands by August. For as little as $49 an unlocked SIM-free Micro-Phone can be yours. This is basic GSM device designed to work on 850/900/1800/1900MHz.
If you want to pick up one of these for whatever reason, click the source link below.
source:
Micro-Phone
(Indiegogo)