Nearly 90% of app downloads are free, and 90% of paid ones are under $3, so no complaints
2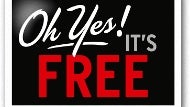 Gartner outed its app download statistics for 2010-2016, and, unsurprisingly, the ratio of free to paid app downloads is almost 9 to 1. Of those paid apps, 90% cost under $3, so that leaves just about one percent or so of all application charging above the three dollar mark.
As for application stores, Apple will account for 21 billion of the 45.6 billion app downloads this year, but its growth rate will be diminishing for the sake of the faster-growing stores of the competing platforms like Android or Windows Phone, says Brian Blau, research director at Gartner.:
Apple's market share is the largest, considering its App Store accounts for 25 percent of available apps in all stores.... The number of apps available is driven by an increasing number of stores in the market today that include platform owners, device vendors, communication service providers (CSPs) and others who want to offer core mobile app services. These stores will see their combined share of total downloads increase, but demand for apps overall will still be dominated by Apple, Google and Microsoft.
The study points out the huge expected growth of in-app purchases, whose mere 5% of all downloads and 10% of the revenue are expected to hit 30%, and contribute 41% of the app store revenues by 2016.