NYT Now launching April 2nd on the iPhone for $8 per month
6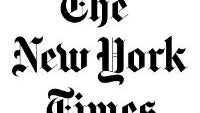 Earlier this month at SXSW, The New York Times announced that it would be launching a brand new news app called
NYT Now
. There wasn't much info on the service beyond the fact that the stories would be specifically written for mobile users, and it would cost $8 per month for new subscribers. Now, we're getting quite a bit more info, including that the release date: April 2nd.
The most interesting new info on the app is that NYT Now won't just be offering content from The Times itself. A team of more than ten editors will be choosing content from The Times as well as from other websites. It will also offer a morning and evening briefing. The idea is that this will just be a sampling of the full Times newspaper, and it is focused on being content put together by humans not by algorithms. The Times is also planning two more apps to be released this summer, one of which will focus on food and the other on opinion pieces.
NYT Now will launch first on the iPhone, but no word has been given for the release on other platforms. The app won't cost existing subscribers anything, and will be $8 per month for new subscribers. It's hard to judge the deal right now, because we don't know exactly what will be offered, but we can say that the iPhone Newsstand subscription for the full newspaper is $15 per month.