NVIDIA unveils plans for new HQ in Santa Clara
1

It looks like the processor business is going pretty well for NVIDIA, because the company has just announced that it plans to build a new corporate headquarters in Santa Clara, CA. The plans are being released as something of a birthday present for NVIDIA from itself. The company was founded 20 years ago this month.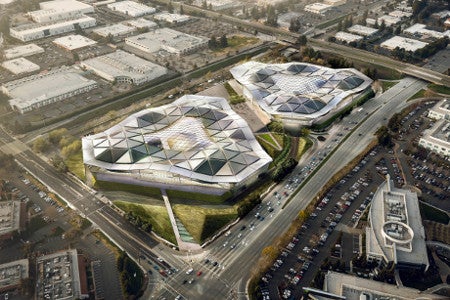 The new headquarters is planned to be built just across the street from the current building. According to NVIDIA CEO Jen-Hsun Huang, the building is planned to "capture the ambition and imagination of our people. It will stand at the intersection of science and art, just as our work in visual computing does." With that in mind, the design of the new HQ is quite distinctive, and has been inspired by "a triangle, the fundamental building block of computer graphics."
We definitely like the new trend of tech companies pushing the boundaries of architecture with HQ designs. Obviously, it's hard to see a story like this and not think of the new "
spaceship" HQ
that Apple is building.
No word on the cost of the NVIDIA site or when construction is planned to start.
Recommended Stories