NVIDIA renames Tegra 3 architecture to 4-PLUS-1
5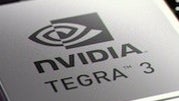 We have talked about the
NVIDIA Tegra 3 quad-core processor
before, and we know that inside it quietly hums a
fifth companion core
. Ticking at the modest 500MHz, it is meant to handle those mundane tasks that do not require too much of a processing punch, thus saving on precious battery power. And that otherwise cleverly engineered architecture does not deserve a not-so-catchy name as
"Variable Symmetrical Multiprocessing"
, right?
That is why
NVIDIA made the 4-PLUS-1 architecture name official
– a name that can be attached to products powered by the Tegra 3 processor and immediately representing the benefits that it brings. Sounds better than
"ninja core"
, don't you agree? Or at least more marketable, that is for sure.
We expect to be hearing that 4-PLUS-1 moniker quite a lot next week in Barcelona as more than a few smartphones and tablets powered by the Tegra 3 quad-core processor will be shown off at MWC 2012. Among them we have the
LG Optimus 4X HD
, yet
HTC, ASUS, Huawei, and ZTE, among others
, are expected to flaunt Tegra 3 devices of their own. It goes without saying that we are looking forward to taking them for a spin, so stay tuned to our
MWC 2012 coverage
to be on top of all the hottest from the show.