NVIDIA moves production of its TEGRA chips to Yakutsk to circumvent overheating problems
Today, NVIDIA opened the doors to its first ever private chip-making factory. Built in the town of Yakutsk, heart of the Siberian republic of Yakutia and conveniently located just 280 miles (450km) south of the Arctic Circle, the fab will be entirely devoted to producing NVIDIA's
scorching-hot TEGRA chips
.
Both company CEO Jen-Hsun Huang and Yakutsk mayor Aisen Nikolayev were present at the celebratory occasion, which featured an ensemble of Siberian bears dancing to the tunes of lively balalaika performances. At -5 degrees Celsius, the day was warm and sunny by the town's weather standards. Donning typical Yakutian male fashion - muskrat fur cap, sheepskin shuba coat, and reindeer skin boots, Mr. Huang expressed his excitement to a crowd of journalists from regional newspaper Gazeta Yakutia, unsuspecting fur-clad bystanders, and a slightly confused bear.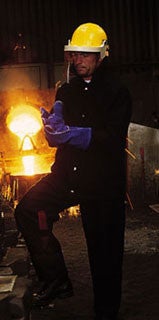 In addition to opening several hundred new workplaces, the factory will finally resolve NVIDIA's long-standing struggles with the extreme hot temperatures involved in the production of its powerful TEGRA mobile chipsets, Huang claimed. According to him, Yakutsk's notably cool climate, which at one time saw temperatures drop to a record -63 degrees Celsius, is ideal for the company's purposes. The CEO added that the decision to move chip production in-house was sparked by the extreme difficulties, which Taiwanese contract manufacturer TSMC faced in its efforts to supply NVIDIA with enough
TEGRA 4 chips
.
To insure the production process, the semiconductor plant had to poach several hundred blast furnace workers and outfit them with specialized heat-resistant clothing, despite implementing an extensive cooling system. Unfortunately, TSMC failed to achieve sufficient yield rates, which resulted in a burning deficit of TEGRA 4-based devices throughout 2013, in addition to many workers being rendered unable to bear the normal temperatures outside their working environment. The mishaps prompted NVIDIA to take matters in its own hands, lest it missed another full year of actually competing in the mobile silicon market.
The company will invest further into fitting seemingly impossible numbers of GPU cores on its chips
TEGRA K1
, features a whopping 192 Kepler cores - a number, which the CEO laughed off as a
"small step"
towards the company's ultimate goal - to make a complete chipset solution with no CPU cores whatsoever, only graphics ones.
All of this sure sounds like an April Fools' joke...