NASA has free eBook for Apple iPad users
1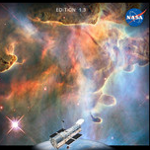 free eBook
available from NASA, entitled
Hubble Space Telescope: Discoveries,
is full of amazing images and includes videos for you to view including a simulation of a galaxy collision (no, not a Samsung Galaxy collision).
The download is fairly large, at 900MB, and you need to have iBooks 3.0 or later and iOS 5.1 or higher. The eBook is highly interactive. Tracy Vogel of the Space Telescope Science Institute in Baltimore, Md., who was part of the design team that worked on the title, said it offers readers the chance to "
manipulate a telescope model to see it from all angles, or flip through a gallery of planetary nebulae - all right there on the page
."
If you have even a slight interest in space or the universe, this eBook will be a good read. And you can't beat the price either. You can download the book for free from the sourcelink.
"These new e-books from NASA will allow people to discover Hubble and Webb in a whole new way - both the science and the technology behind building them. They collect all of the amazing resources about these two observatories in an excellent product that I think people will really enjoy."-Amber Straughn, astrophysicist, NASA's Webb telescope project
source:
iTunes
via
TUAW