Much more for much less: Amazon directly attacks the iPad mini on its home page
21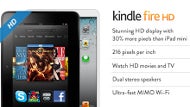 Ads that directly attack a competitor's product saying it is inferior to the company's own may be restricted in Europe, but the US doesn't suffer from such delicacies. You constantly see Coke vs Pepsi ads in direct comparison, outlandish claims for the best beer in the world, and this extends even to drugs commercials.
Well, now we have one such attack ad from Amazon, plastered all over its front page, directly saying that the
iPad mini
is inferior to its own Kindle Fire HD with the slogan: "
So much more for so much less
," but with stats to back the claim up.
Amazon touts its screen pixel density advantage, the stereo speakers compared to the mono output from Apple's mini tablet, and the MIMO Wi-Fi radio inside. All for less than two thirds of the iPad mini price. CEO Jeff Bezos said that if you don't make money off a product, you can offer great hardware at a very low price point, to which, of course, Apple would probably answer "
knock yourself out
."