Motorola's Q9 Napoleon still alive for commercial sales?
This article contains unofficial information.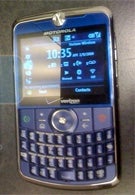 The other day
we wrote
about the Motorola Q9, known as "Napoleon", and how it appears that the device is heading for Verizon. Another site was refuting this, saying that Big Red was passing up on the phone as far as commercial sales are concerned, and had instead sold some of the devices to the government and that some of those units had made their way onto sites like Ebay. This Napoleon is far from dead because we hear from one of our sources that a customer came into his store with a working Q9 looking to get it activated. After a long chat, the customer revealed that Motorola is going to be announcing some cool gadgets in the second quarter and he hinted that we could see the Napoleon or some newer version of it released during this period. While the real Napoleon finally met his Waterloo, the saga of the Motorola Napoleon continues hopefully with a commercial launch.
Motorola Napoleon Q9 Preliminary Specifications
more info:
everythingQ