Motorola expands ROKR line with three new handsets
8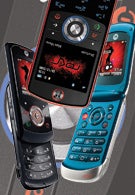 Motorola ROKR EM30
has been known for a while, as information on it appeared from the
FCC in May
. It is the replacement of the E8, with similar landscape display and "ModeShift" keypad, which shows numeric keys by default but music shortcuts when the player is used. It is pretty similar to the E8, quad-band GSM running on Linux-JAVA OS, with QVGA display and 2-megapixel camera.It also features USB 2.0.
Motorola ROKR EM28
is the clamshell model. On its front side when closed it houses the 1.3MP camera lens, a small black and white display and touch keys which are illuminated when the player is active. When opened it has 1.8" 128x160 color display. Motorola claims its music playback time is approximately 11 hours. EM28 is a tri-band GSM that will be available in both U.S. and Europe friendly versions.
Motorola ROKR EM25
is the slider, the smallest and (probably) cheapest of the three. It also has 128x160 1.8" display and 1.3MP camera. It is dual-band GSM but like the EM28 will be available in two variants for different markets.
All three are expected to launch later this quarter. EM30 will initially be available in Taiwan and then in other markets.
source: Motorola