Motorola Moto X specs review
36
X literally marks the spot for Motorola latest creation - the Moto X smartphone. Having forgotten to actually drink some secret Chemical X, though, the Moto X seems to be a bit light in the specs department. In other words, it's not as impressive as other flagship devices out there (think Samsung Galaxy S4 and HTC One), at least on paper. Of course, that doesn't mean that Motorola hasn't tried to get away with it by coining an interesting catch-phrase - X8 Mobile Computing System - which is supposed to be an octa-core computing solution. But, just in case you're about to fall for that, be sure to read on, as you might find the following info of utmost interest.
Design
You'll probably agree with us that the Motorola Moto X isn't going to take the crown in a beauty contest anytime soon. Built from two pieces of plastic, the body of the Moto X is designed to fit comfortably in the hand, rather than inspire anyone with breath-taking visuals. The phone is 129.3 mm high and 65.3 mm wide, while the thickness of its profile varies from 5.6 mm to 10.4 mm. This makes the handset slightly smaller than the Nexus 4, which is equipped with a screen of identical size. Meanwhile, the Moto X weighs 130 grams, which is slightly lighter than the Nexus 4, and as heavy as the Galaxy S4 - ultimately meaning that the phone is quite light.
The most interesting aspect of the Moto X's design are the numerous color options that you can choose from. While purchasing the Moto X, users can select from 2 front colors and a total of 18 (eighteen!) back colors, as well as 7 accent colors. Needless to say, there's going to be something for everyone. What's more, Motorola (should we say Google?) gives you the chance to have a personalized print on the back of the phone, which is a very cool feature — one that can also make the Moto X the perfect present for someone special.
Display

This is where it shows that the Motorola Moto X isn't exactly a cutting-edge smartphone. Equipped with a 4.7" 720p display, it's not the size, but the resolution that may make some customers prefer some other device, seeing that most flagship smartphones arrive with 1080p displays these days. Still, the 720p screen makes for a pretty nice pixel density of 316 pixels per inch, which is just enough for comfortable viewing and reading. Sure, extremely small text in the web browser may look a bit crude, but who's reading text like that, when you can just pinch-zoom your way in?
Inches and pixel densities aside, the new phone will have an AMOLED screen, but thankfully, it's going to be with a standard RGB pixel arrangement, not the PenTile one. We can't make any conclusive predictions about the quality of the display right now, but chances are that it's going to sport vibrant colors and an extremely high contrast. It'll be interesting to check the color balance and daylight visibility, as those are usually the weak sides of AMOLED displays. Samsung is the biggest proponent of AMOLED screens right now, and to tell you the truth, those panels have been getting better and better with each new iteration. Whether Motorola is going to do a similarly good job, though, remains to be seen.
Processor and Memory
And this is where it gets interesting. Why? Because Motorola has installed the so-called X8 Mobile Computing System on the Moto X. And while the name of this system sure sounds scary, it's actually nothing that can make competitors feel bad about the chipsets installed on their own devices. The X8 does feature eight cores, only thing is that just two of those are CPU cores, courtesy of the Snapdragon S4 Pro (1.7 GHz Krait cores). The other six consist of the 4 GPU cores of the Adreno 320, a dedicated natural language processing core and a context computing processor. Sorry to disappoint those of you who were hoping this to be a competitor to the Exynos 5 Octa of sorts, but there's no octa-core CPU in the Moto X. There isn't even a quad-core one, further cementing the fact that Google and Motorola aren't looking to wow us with specs.
Still, we do expect the Moto X to offer a wonderful user experience and performance. With the 2 GB of RAM on board, that certainly seems easy to achieve.
When it comes to internal memory, the Motorola Moto X is yet another proof that Google hates microSD cards, as there is no such slot on the phone. Instead, users will simply have to choose between a 16 GB and a 32 GB model. Thankfully, Google is at least throwing some cloud storage into the deal, with every Moto X granting you access to two-years of free 50 GB Google Drive storage.
Camera
So, Motorola has come up with a new fancy camera for its smartphones, called Clear Pixel. It's a 10-megapixel sensor that you'll find on the recently-announced DROID line-up for Verizon, as well as the Moto X. The thing about this camera, as almost every other smartphone camera, is that it's designed to capture good low-light photos and blur-free daylight photos. Whether it'll succeed in doing so, we can't say just yet.
It's worth noting that the Clear Pixel camera relies on 1.4-micron pixels, which is bigger than the 1.12-micron pixels found in 13MP shooters like those in the Galaxy S4 and Xperia Z. This should supposedly help the camera perform better in low-light scenarios. Motorola claims that the RGBC ('C' stands for 'Clear') technology in use by the Moto X is capable of capturing up to 75% more light than the traditional RGB Bayer sensors, but it remains to be seen if that's really going to have a positive impact on the images.
Naturally, the device also supports 1080p video recording using the rear, as well as the front-facing camera, which has a resolution of 2-megapixels.
The Moto X is introducing a new gesture shortcut allowing you to quickly launch the camera app. Simply pick up the phone and twist your wrist two times. At least, it's simple on paper, though, naturally, we can't be sure yet if it'll be so simple to do in real life. Thankfully, for those of us with inborn resistance to new things, there's always the camera app that you can use to start the camera.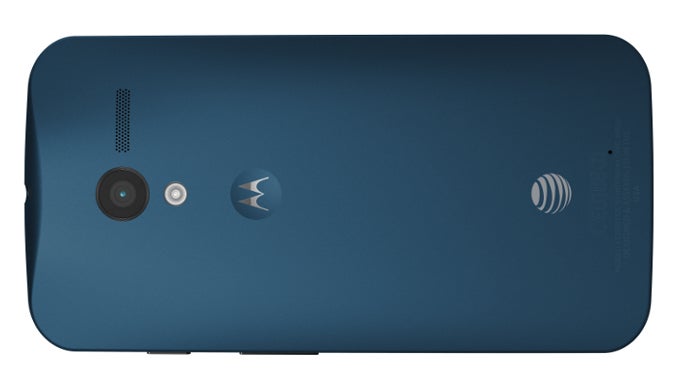 Software
If you've been hoping to find Android 4.3 on the Moto X, you're in for a small disappointment. The handset will be loaded with Android 4.2.2 out of the box, with an update to 4.3 expected soon. This actually isn't such a big problem considering that Android 4.3 is a minor update, but still, who wouldn't want their smartphone to be running the latest OS available?
Anyway, even though Motorola is owned by Google and all, the Moto X isn't going to run a pure Android build. There will still be some software customizations by Moto, and there's also going to be our favorite carrier bloatware. (Remember, the Moto X will be sold by the five biggest US carriers!) Thankfully, a Google Play Edition of the phone is expected, which should solve this issue for those users who can't stand having some junk on their devices.
When it comes to special features, the Moto X won't blow your mind, but it does seems to have a few handy tools that you won't find on many other phones. First off, there's Active Display, which makes a good use of the AMOLED screen technology, as it will light up only some portions of the display in order to show important notifications or the current time. Meanwhile, Touchless Control will let you issue commands by using voice alone - you won't even have to press an on-screen button in order to activate Google Now, or anything like that. You just say "OK, Google Now," and are ready to issue a command.
Expectations
We can't deny it - Motorola has managed to get us really excited about the Moto X, despite the fact that the specs aren't top-notch. Sure, there isn't a 1080p screen, or a quad-core processor, but hey, it's really the experience that matters, and with a pixel density of 316 ppi, as well as a well-optimized user interface, we can easily see the Moto X offering a comparable or even better experience than the flagship phones out there like the Galaxy S4 or the One.
Design-wise, the Moto X is nothing fantastic, but the rich customization options make up for that, while the construction quality of the phone will certainly be at a very high level.
The Moto X is obviously lacking in terms of feature count, but we do like where Motorola is going with this, as it has aimed to enhance those areas of the phone that are most important to all - accessibility and battery life. It's not a phone for those looking for bragging rights, but a phone that will try to get the job done as quickly and efficiently as possible. And we like that.
Stay tuned for our full review!