Motorola Devour to use the same processor as Palm Pixi
This article contains unofficial information.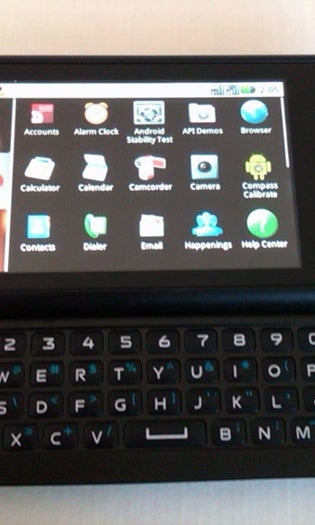 It appears that the upcoming
Motorola Devour A555
(formally known as the Calgary) may feature the same Qualcomm MSM7627 processor that is on the Palm Pixi and BlackBerry Curve 8530, instead of using the OMAP3430 that is on the Motorola DROID. The MSM7627 has two ARM cores that are combined into a single chip: one that is dedicated as a 600MHz CPU core and one that is a 400MHz modem processor. There is also a separate 320MHz application DPS for WVGA at 30fps encoding/decoding, and a 3D hardware graphics core at 200MHz that supports OpenGL 2.0. At this point we know the Motorola Devour will be the first Verizon smartphone to feature MotoBLUR, though it is still unclear if it will be running Android 1.6 or
2.1
by the time it's released. It also comes equipped with a 3MP camera, side-sliding QWERTY keyboard, 3.1" 480x320 display, Wi-Fi, 3.5mm headset hack, and microSDHC memory card slot. The Motorola Devour is expected to be out Q1 and possibly cost less than the Motorola DROID.
Motorola Calgary A555 Preliminary Specifications
source:
AndroidAndMe
Images from
boygeniusreport