Motorola DROID XYBOARD 10.1 hands-on
2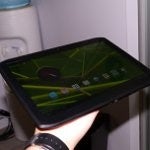 Having played with its
smaller sized sibling
, the
Motorola DROID XYBOARD 10.1
is simply for those who prefer a tablet that's a bit more generous with real estate. Well folks, there's hardly any surprises with this Honeycomb flavored tablet since there's nothing new besides the fact that it's sporting a larger
10.1" IPS-enhanced display
that's tantalizing us with its detailed 1280 x 800 resolution and luminous appearance.
Visually, we have to give some kudos to the tablet's construction seeing it's considerably
sturdy
in its build quality – giving us a sense of relief knowing it'll withstand even some minor bumps and accidents. Yes, it incorporates some of the design traits found with recent smartphones like the Motorola PHOTON 4G and DROID RAZR, but its magnesium-reinforced body and aluminum housing goes to show that Motorola didn't skimp out in creating this tank-like tablet.
Showing off its multimedia centric focus, this is absolutely going to be the dream device for any couch potato considering it's packing a very handy
IR blaster
, which combines with the
Dijit app
to give you the functions of any universal remote. No need to go around searching for that TV remote, which is probably lost somewhere in the cracks of your living room couch, since you can channel surf like a professional by simply using the DROID XYBOARD 10.1.
Much like other Android devices on the market right now, it's still sitting pretty running
Honeycomb
– though, we're told it's going to be getting its dose of love in the form of Ice Cream Sandwich eventually. Granted that we experienced some instances of
choppiness
while navigating across the platform, its
1.2GHz dual-core processor
seems pretty sufficient to at least provide us with a tolerable experience. Admittedly though, we're curious to see whether or not ICS will clear things up and result in nothing more than a seamless and instant experience.
Of course, this wouldn't be a part of Verizon's lineup if it didn't offer
4G LTE connectivity
, and rightfully so, it'll delight those with its super-fast data speeds. Thankfully, the Motorola DROID XYBOARD 10.1 recently was reduced in price by a mere $50 – thus, bringing its total cost to
$479 with your signature on a 2-year contract
for the base 16GB model. For the cost, its design and construction seemingly makes you believe that it's worth every penny, but then again, there might be others that might not be down about ponying up some moolah to use it each month.