Motorola DROID X2 Hands-on & Unboxing
30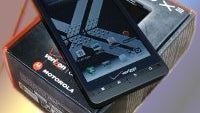 Undeniably, it can be argued that the Motorola DROID X was the single most successful handset released last year for Verizon – especially when it arrived on the scene exuding that larger than life status. Obviously, it's one gargantuan handset that doesn't mess around, even more when it's filled to the brim with some of the good old high-end specs you'd normally expect to find. Fast forward to roughly a year later, we're seeing its successor starting to make its rounds boasting some upgraded hardware – while still retaining its predecessor's
distinguishable looks
.
Peeking at its retail packaging, we're hard pressed to expect finding anything inside due to its compact look, and at the same time, it just barely seems big enough to even accommodate the handset itself. Regardless of that, the handset is fitted inside along with the wall charger, microUSB cable, and usual set of documentation. Sadly though, there isn't anything else out of the ordinary in terms of additional accessories with the handset, but then again, that's basically what we come to expect nowadays.
Holding onto the handset for the first time, we're not filled with the same feelings we had when we first encountered the original Motorola DROID X – that's because
its design is identical
to the teeth. Strangely enough, the only thing different with the DROID X2 with its design is the fact that Motorola decided to
remove the dedicated shutter key
. Besides that, it's still one
solidly constructed
handset that boasts a complete
soft touch matte exterior
, which does wonders to repel debris and keeping it clean looking. Streamlined for the most part like its predecessor, we still find that hump towards the top that houses the handset's camera sensor.
Physically, it's the same exact handset that we've checked out, but the true difference is found all under the hood. The Motorola DROID X2 features a 4.3" qHD (540 x 960) capacitive touchscreen with support for 16.7 million colors, 1GHz dual-core NVIDIA Tegra 2 processor, 512MB RAM, 8-megapixel auto-focus camera with dual-LED flash, preloaded 8GB microSD card, Bluetooth, Wi-Fi, and aGPS. Crazy as it may seem, the handset is running Android 2.2 Froyo out of the box – though, it's layered with the
latest version of MOTOBLUR
. So far, Verizon's
first handset to sport a dual-core processor
is doing fine with most basic operations, but we'll be putting it through the paces over the next few days to get a better feel for it. In the meantime, you can check out our unboxing and hands-on video below of the Motorola DROID X2. Expect our in-depth review soon!
Recommended Stories