Motorola DROID RAZR MAXX HD Specs Review
27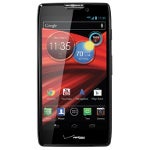 Motorola's new DROID RAZR MAXX HD is an impressive device any way you look at it. It has a relatively compact body, great specs, and an enormous battery to keep the juice flowing longer than what you can expect from your typical smartphone. But exactly where does the RAZR MAXX HD sit when you compare it to the highly-competitive smartphone landscape of today? Has Moto managed to do enough innovation in order to guarantee itself a happy Holiday season? And why should customers prefer the MAXX HD versus any other top smartphone like the Galaxy S III and One X? Let's dive in and take a deeper look at exactly what the Motorola DROID RAZR MAXX HD offers and how it stacks up against its strong competition!
Design
OK, we guess this is the first area where Motorola has a winner. The RAZR MAXX HD can easily beat most other phones in terms of design, not only by having decent looks, but also by sporting some premium materials like Kevlar for parts of its body (trademark of the DROID RAZR series). What's cool about this phone is that it isn't enormous in terms of size, although it is a bit thicker than average due to the giant battery that it's packing. Weight shouldn't be a problem with this device, as its 157 grams aren't something that can take us by surprise these days.
Display
4.7 inches, Super AMOLED HD technology, 720x1280 pixels resolution... that's how we can best describe the screen of the RAZR MAXX HD. It's perfectly competitive compared to the other top offerings today, including the GS III and One X. On the other hand, it seems there isn't anything special that we can point out in this respect, other than to say that it's "perfectly competitive". This isn't necessarily bad, but you know, it's always cool when we have some kind of new technology involved. Oh well... we guess it's not everyday that manufacturers can introduce important innovative stuff. (Distant voice:
Now what was the PureMotion HD+ thing again...
)
Processor and Memory
Just like almost any other Verizon LTE smartphone out there today, the RAZR MAXX HD features the dual-core Snapdragon S4 chipset with Krait CPU and Adreno 225 GPU. Again, that's perfectly fine, but not exactly groundbreaking. Anyways, we're sure that Jelly Bean will run buttery-smooth on this hardware.
The handset also sports 1GB RAM, as well as about 26GB of internal, user-accessible memory. Thankfully, there's also the option to install a microSD card of up to 32GB, so you can easily increase your storage space without breaking the bank.
Battery
This is surely where the Motorola DROID RAZR MAXX HD is going to leave its mark. Armed with a sizable 3,300mAh unit, this phone should be able to last for 21 hours of talk time, 10 hours of video streaming, 13 hours of video playback, and 27 hours of music playback on a single charge, while connected to Verizon's 4G LTE network. And the fact that Motorola has managed to fit all of this hardware and amazing battery in a phone that is 9.3mm thick makes us wonder if other manufacturers shouldn't start considering making similar products as well.
Camera
The same theme is repeating when it comes to the camera - very good, but not awesome. Without anything that special to differentiate the phone in this area, there's a normal 8-megapixel camera with F2.4 aperture, LED flash, 1.3MP front-facing shooter and, of course, 1080p video recording capabilities.
We'll be able to tell you more about this camera when we get the chance to play with the device and take camera samples, but we can tell you this - we're definitely not as excited about this camera as we are for the PureView shooter of the Nokia Lumia 920 and its 'floating lens' technology.
Software
The good news is that the Motorola DROID RAZR MAXX HD is going to come straight with Android 4.1 Jelly Bean. The other good news is that it'll actually arrive before the next Android release is even announced, so hey, users will actually be able to have a phone with the very latest version of the operating system!
Motorola has announced that it'll be releasing developer phones in the near future, but the standard DROID RAZR MAXX HD won't be one of them, as it will feature Moto's own Android interface customization. As part of the included software by Motorola, users will be able to take advantage of some pre-loaded apps like SMARTACTIONS and Quickoffice. Personally, we hope that Moto will do a good job of optimizing its interface so that it doesn't bog the phone down.
Release date
While no exact release date was given by the manufacturer, it did promise that the handset will be available in time for the Holiday season. It will be available through Verizon and internationally, pre-loaded with Jelly Bean and at a price that is yet unknown.
By the looks of it, Moto has a strong player in store for us, armed not only with some impressive hardware, but a giant battery as well. Do you think that the RAZR MAXX HD will repeat and even surpass the success of the first DROID RAZR MAXX?